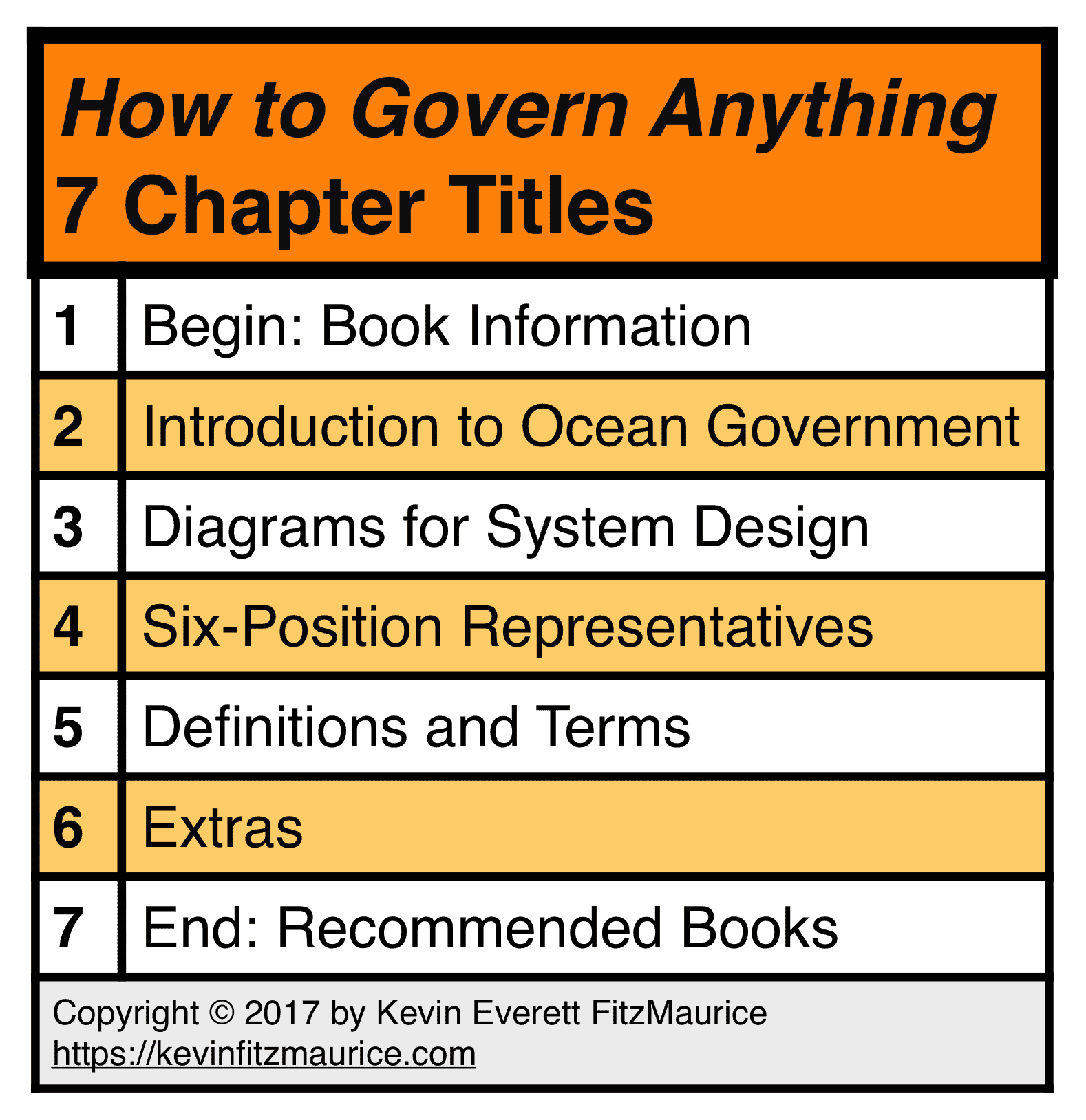 ---
Table of Contents for the book HOW TO GOVERN ANYTHING
Garden will teach you an easy and effective system of Cognitive Behavioral Therapy (CBT).
REBT practitioners update your practice for greater effectiveness & efficiency with Not.
Ego will help you to live sane in an insane world of competing ego-stories.
---
Notes About this Table of Contents
This content list also serves as both an index and an outline for the book.
Seeing the actual content list, you will recognize the amount of information and the detail provided that will enable you to not only understand a more effective and efficient form of government–but also to apply that knowledge to your organization of any size or style.
Use this page for information, reference, and search functions for the book How to Govern Anything.
---
CONTENTS ORGANIZED BY CHAPTER
---
Begin
Title
Subtitle
Copyright

Copyright © 2012 by Kevin Everett FitzMaurice

ISBN
Dedication
Description
---
Introduction to Ocean Government
Metaphor for System
Structure of System
Design Your Ocean Government
Purpose of Ocean Government

Efficient and Effective
Fair and Equal Representation
Greater Adaptability
Greater Responsibility
Greater Responsiveness
Pride in Government
Problem Ownership
Promotion of the Most Fit
Less Bureaucracy
Less Control by Special Interest Groups
Less Corruption
Less Disenfranchised Populations
Less Expensive
Less Injustice
Less Taxation
More Belonging
More Freedom
More Human Rights
More Innovation and Progress
More Money in Economy
More Multiculturalism
More Openness in Government
More Participation
Higher Functioning and Intelligence
More Motivated Population
---
Diagrams for System Design
Twelve Members
Basic Design Principle
Spring Node Diagram
Tributary Node Diagram
Stream Node Diagram
River Node Diagram
Ocean Node Diagram
Ocean One Diagram
Ocean Government Diagram
Verbal and Numerical Delineation

10-level Ocean Government
Populated 10-level Ocean Government

Spring to Tributary Diagram
Spring Nodes Filling a Tributary Node
---
Six-Position Representatives
Movement of Representatives

9 Levels of Potential Representation

First Set of Six Positions
Second Set of Six Positions
Third Set of Six Positions
Fourth Set of Six Positions
Fifth Set of Six Positions
Loss of Representative Position

Example of Loss in Fourth Set

Status Before and During Replacement
Status After Replacement
---
Definitions and Terms
General Chapter Information
Absenteeism
Acting Officers
Allowed Missed Meetings

Pre-Approved Missed Meetings

Approval and Disapproval of Topics
Arguing and Debate
Associate Node Member
Attendance at Meetings
Automatic Loss of Membership

6 Example Reasons for Automatic Loss of Membership

Chairperson Office
Chairperson Duties
Competence of Members
Committees versus Nodes
Conclusion State
Contingency Meeting Location
Contributing Node Member
Counting Votes
Cross-talking
Decision Domains
Decision Making and Voting
Discussion of Topics
Dress Code
Election of Node Representative
Exceptions for Following Rules
Flow Chart of Government Hierarchy
Food at Meetings
Full-Time Node Members
General Meetings or Sessions
Government Functions
Government Management and Service Operations
Higher-Level Node Additions
Incident Reports
Intoxication at Meetings
Law Levels
Laws
Meeting Arrangement
Meeting Notification
Meeting Place
Membership Levels
Membership Qualifications
Membership Status
Membership Status Lost
Minutes of Meetings
Moving Down Node Levels
Moving Up Node Levels
Node
Node Funding
Node Meeting Records
Node Observation
Node Representative Term of Office
Number of Node Memberships
Number of Offices Held
Observing Node Member
Ocean Node
Ocean One
Offices of Nodes
Overseer (for Node Voting)
Part-Time Node Member
Policies for Nodes
Positive Competition
Privacy for Members
Promoted Member
Public and Open Meetings
Quorum Determination
Recalled Representative
Removal from a Meeting
Representative
Representative Compensation
Representative Member
Responsibility Transfer
Rewards for Members
River Node
Secretary Office
Security Meeting
Size Limits
Speaking Order
Special Topic Meeting
Split Government Design
Spring Node
Spring Node Membership
Spring Node Waiting List
Stream Node
Suspension of Node Membership
Taxation
Term of Office or Position
Termination of Node Membership
Three Node Offices
Time Limits
Topic Discussion List
Topic Bulletin Board
Topic Dissemination
Topic Limits
Topics
Treasurer Office
Tributary Node
Twelve as Ideal Node Size
Unanimous Decision Making
Vacancy Notification
Vacancy Voting
Violence
Voted Topics and Laws
Voting
Voting Node Member
Voting Time Limits
---
Extras
Contributed Models and Systems

Contributed Models Listed by Category

Suggested Improvements and Enhancements
Benefits of Ocean Government
---
End
About the Author
Recommended Books,
Alphabetically by Author
How to Read FitzMaurice's Books
FitzMaurice's Books

Book Descriptions
How to Have a Super Attitude
How to End Ego
How to Stop Failing
How to Clear Your Mind
How to Achieve Coherence

Enjoy!
---
 NOW
---
Some Benefits to How to Govern Anything
---