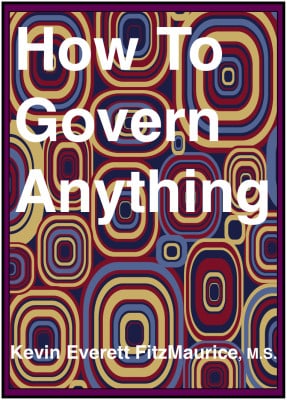 ---
Extra Information & Variations Not included in the Book
Breathe to learn Mind-Move to Quickly Regain Your Center
"Anarchy is not a solution, because successful anarchy is a return to rule by gangs and tribes." —Kevin Everett FitzMaurice
"Because men are driven by passions as well as reason, the temptation to violate the rights of others is always present, especially in the strong over the weak." —Michael Anton
"The wise man knows that it is better to sit on the banks of a remote mountain stream than to be emperor of the whole world." —Zhuangzi (Chuang-tzu)
---
How To Quickly Rate & Understand Different Systems of Government
The main factor for rating different forms of human-systems of government is to ask how many people affect decisions by sending their wishes upstream.
You can then ask how many higher levels can the lower levels of social input effect in any tangible ways.
It turns out that Democratic systems allow more influence by the people than do Socialistic systems, which allow more influence by the people than do Communistic systems.
The Ocean Government system allows for the highest possible influence by the people on decisions at all levels of government. No other system comes close.
If you care about people influencing government instead of corporations, entrenched bureaucracies, special-interest groups, millionaire and professional politicians, billionaires, and other elites, then experiment with the Ocean Government system.
People gain fame and fortune from focusing on social-problems more often than from focusing on social-solutions.
It is challenging to get people to experiment with a new solution because people are too busy profiting from dealing with current problems. Act different.
---
Variation Multiple Single Nodes
In some cases and situations, it might prove advantageous for each and every node level of a government system to end in a single node that consists of one person.
The case in point that provided the idea for this variation was military organizations. To apply this variation to military organizations one would have the normal structure of each node level ending in a node of twelve persons. However, in combat or emergency situations than each node level would end in a single node or a node of one person who was a member of the final twelve person node for the level.
Naturally, the person who would become the designated person in charge would be chosen ahead of time with consideration for replacements as needed.
The reason for this variation is that there are times for leadership and action that require a single authority for efficiency, effectiveness, and compliance.
Some business organizations might also prefer this variation during production times, relocation times, emergencies, or any situation that might be too hectic or chaotic to allow for much processing and sharing time.
---
More Variations to Be Included in the Future.
---
Other Pages about HOW TO GOVERN ANYTHING
---