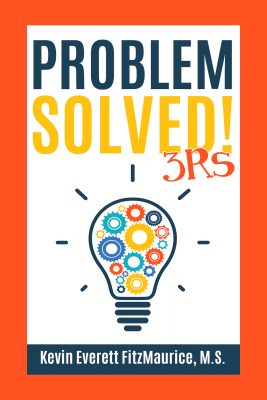 ---
"The majority of men meet with failure because of their lack of persistence in creating new plans to take the place of those which fail." —Napoleon Hill
Garden will teach you an easy and effective system of Cognitive Behavioral Therapy (CBT & REBT).
REBT practitioners update your practice for greater effectiveness & efficiency with Not.
Ego will help you to live sane in an insane world of competing ego-stories.
---
About Table of Contents
This content list also serves as both an index and an outline for the book.
Seeing the actual content list, you will recognize the amount of information and the detail provided that will enable you to not only understand problem-solving–but also to apply that knowledge to your life, relationships, and responses.
Use this page for information, reference, and search functions for the book Problem Solved! 3Rs.
Page numbering varies with the format and edition of the book.
---
PDF Table of Contents for Problem Solved! 3Rs: It Will Open in a New PDF Window
---
Note: The Contents Page Numbering Is Different for the Print Version
Begin 9
Problem Solved! 3Rs 9
Copyright 9
ISBN 10
Dedication 11
Description 11
Author's Note on the Text 12
10 Approaches to Sanity 13
---
C1: 3Rs Explained 17
3Rs Defined 17
5Rs: Add Repeat & Review 19
On the Nature of Habit 21
Table: 3Rs of Problem-Solving 25
Table: 7Rs of Problem-Solving 25
Recognize: The First Step 27
Recognize Using Knowledge 31
Table: Knowledge As Positive or Negative 33
Remove: The Second Step 34
5 Possible Complications with Problems 36
Table: 5 Problem Complications 38
Remove Using 3Ps Test 39
Table: 3Ps Test 41
Replace: The Third Step 41
Replace Using 6 Steps 43
Table: Replace in 6 Steps 47
---
C2: 3Rs Examples 49
1. Example: Blocks to Being 50
2. Example: Ego's End 52
3. Example: Lessen Mental Noise 55
4. Example: Maintainers of Problems 57
5. Example: Self-Defeating Attitudes 61
6. Example: Self-Defeating Behaviors 65
7. Example: Test & Evaluate Feelings 67
---
C3: 3Rs & Counseling 71
3Rs Metatheory of Counseling 72
Table: 3Rs Metatheory of Counseling 73
Stage I: Recognize Problem 74
Stage II: Remove Problem 76
Stage III: Replace Problem 77
Counselor: Stage I Tasks 78
Counselor: Stage II Tasks 79
Counselor: Stage III Tasks 81
3Rs Relapse Prevention 83
Table: 3Rs Relapse Prevention 83
Recognize Relapse Tendencies 84
Remove Relapse Tendencies 85
Replace Relapse Tendencies 86
3Rs Improve Recovery Plan 86
Table: 3Rs Improve Recovery Plan 87
Recognize Ineffective Parts 87
Remove Ineffective Parts 89
Replace Ineffective Parts 91
3Rs & Coping 94
Table: 3Rs Coping with Attitudes 95
Table: 3Rs Coping with Expectations 96
Table: 3Rs Coping with Thinking 98
---
C4: 7Rs & Self-Esteem 101
3Rs on 3Rs 102
3Rs on First R 103
3Rs on Second R 105
3Rs on Third R 106
Return of the 7Rs 108
Step 1. Recognize the Problem 109
Step 2. Repent for Serving the Problem 112
Step 3. Reduce the Problem 114
Step 4. Remove the Problem 116
Step 5. Replace the Problem 117
Step 6. Repeat All the Steps 119
Step 7. Review All the Steps 120
1. Recognize Self-Esteem Sickness 121
Recognize Self-Esteem 122
2. Repent of Self-Esteem Sickness 125
Repent of Self-Esteem 126
3. Reduce Self-Esteem Sickness 128
Reduce Self-Esteem 129
4. Remove Self-Esteem Sickness 158
Table: 5 Ways to Remove Self-Esteem 160
Long List: Dispute Self-Esteem 165
Table: Observer vs. Observed 172
5. Replace Self-Esteem Sickness 174
6. Repeat the Steps on Self-Esteem 180
7. Review the Steps on Self-Esteem 181
---
C5: Understanding Emotions 183
Table: 12 Feeling Superstitions 184
1. People Can Give Me Feelings 185
2. People Are Responsible for How I Feel 187
3. "It" Can Give Me Feelings 189
4. "It" Is Responsible for How I Feel 192
5. Expressing Feelings Heals Feelings 195
6. Expressing Feelings Ends Feelings 197
7. Express Feelings to Cope with Feelings 199
8. Expressing Feelings Changes Feelings 201
9. Feelings Must Be Expressed, Else … 203
10. Feelings Cannot Be Controlled 205
11. Feelings Cannot Be Regulated 208
12. All Feelings Are Good Feelings 210
13. I Have to Act the Way that I feel 211
Recognize Cause of Emotions 213
Table: ESFTRC Model of Emotions 215
Table: ESFTSFTRC Problem Feelings 222
Example ESFTSFTRC 225
Recognize ESFTSFTRC 228
Remove ESFTSFTRC 230
Replace ESFTSFTRC 233
Example ESFTRC 234
Table: Healthy & Unhealthy Feelings 236
---
End 239
About the Author 239
Table: Books for 7 Steps to Sanity 242
Step 1: Practice Emotional Responsibility 243
Step 2: Upgrade Coping & Problem-Solving 244
Step 3. Discover & Reduce Ego Control 245
Step 4. Rediscover & Increase Authentic Self 246
Step 5. Upgrade & Practice Thinking Skills 246
Step 6: More Responsibility & Less Ego 247
Step 7: Improve the World & Communication 248
Other Languages than English 249
Recommended Books: Alphabetical 249
How to Read FitzMaurice's Books 266
FitzMaurice's Books 266
Book Descriptions 266
99¢ Books 266
How to Change the World 267
How to Live Maturely 267
How to Make Stress Work for You 267
How to Have a Super Attitude 267
How to End Ego 268
How to Live a Positive Life 268
How to Use CBT for Self-Help 268
How to Practice Instant Yoga 268
Enjoy Life! 269
---