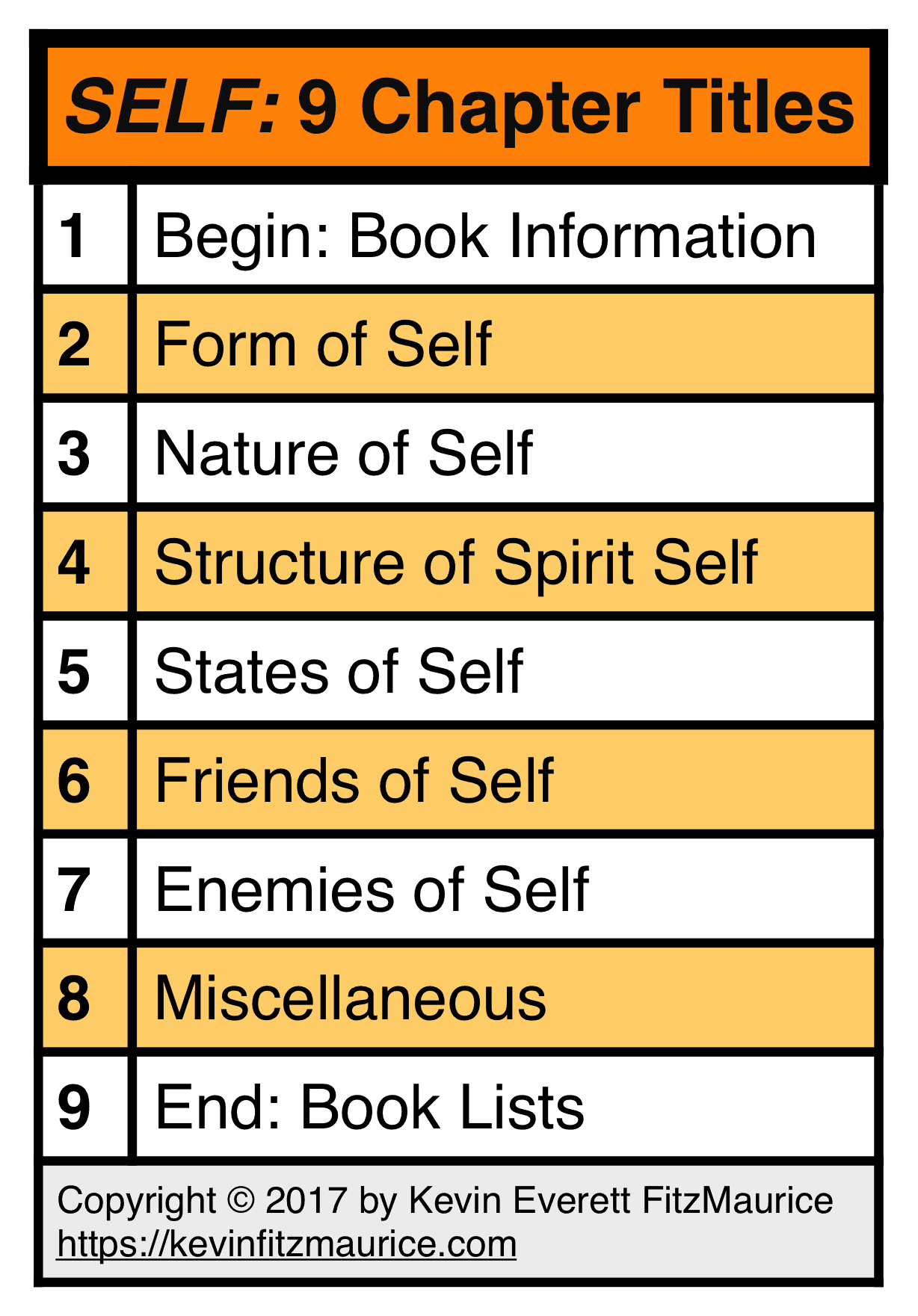 ---
Table of Contents for the book Self: Who Am I?
Garden will teach you an easy and effective system of Cognitive Behavioral Therapy (CBT).
REBT practitioners update your practice for greater effectiveness & efficiency with Not.
Ego will help you to live sane in an insane world of competing ego-stories.
---
Notes on this Table of Contents
This content list also serves as both an index and an outline for the book.
Seeing the actual content list, you will recognize the amount of information and the detail provided that will enable you to not only understand the nature of self–but also to apply that knowledge to your identity, relationships, and responses.
Use this page for information, reference, and search functions for the book Self: Who Am I?
---
CONTENTS ORGANIZED BY CHAPTER
---
Begin
Title
Subtitle
Copyright

Copyright © 2013 by Kevin Everett FitzMaurice

ISBN
Dedication
Description
Preface

4 Ways Identity Is Independent of Actions
9 Rules for Right Inquiry
---
Form of Self
Physical and Spiritual Bodies
Living Bodies Are Containers
Humans Are Two Containers in One
Be the Container, Not the Contents

Determine the Container's Value

7 Tests for a Container's Value

The Container Is Not the Contents
Words for Container
Qualities of a Container
---
Nature of Self
Spirit Nature
Container Nature
Mirror Nature
Transceiver Nature
Empty by Design
Processing by Design
Waiting by Design
Right Practice

3 Steps of Waiting
4 Steps of Waiting
---
Structure of Spirit Self
Tripartite Systems of Self

5 Western Tripartite Systems
2 Biblical Tripartite Systems
1 Eastern Tripartite System

3 Parts of Spirit Self

Heart Essence

Stop Crediting Human Thought

Soul Essence
Mind Essence
3 Areas in Each Container
Follow, Wait on Following, Remember Waiting

5 Steps to Self-Discovery

Angels, Men, and Women

All 3 the Same
All 3 Different
Support Works, Telling Does Not Work

3 Survival Awarenesses
3 Identity Awarenesses
3 Consciousnesses

3 Consciousnesses Working Together

Actions of Self

5 Actions of Self
9 Actions of Hosting
Either/Or
Impulse Options
FIDOC Is Choice
Self-Consciousness and Self-Awareness

3 Sources for Feelings

6 Orders of Feelings
Heart Sensing and Feelings

Diagram of Self As a System
Three Issues Counseling (TIC)

TIC Step by Seven Steps
Words for Switching
---
States of Self
Empty

Expressions to Experiment with
Dialectical Relationship with God

Follow, Not Lead
Free
Host
Humble
Naked
Neutral
No-mind
Not Claiming
Not Knowing
Not Self
Not Thinking
Non-doing
Peace
Pray and Fast

The Easy Answer
Ending the Bad while Increasing the Good

2013-01-02
2013-01-03
2013-01-04
2013-01-05
2013-01-06
2013-01-11
2013-01-12

Rest
Retreat and Return
Secure
Silent
Spirit
Straight
Wait
Where and When

Who, What, Why
How
Where
When

Zero
---
Friends of Self
Accept
Child Nature
Forgive
Hate Your Life
Identity Is Your Strength
7 Reasons Identity Is Strength
Journey Home
Limit Self-Talk

Switch the Conversation
Kill the Conversation

Question and Test

Good Questions
Great Questions
Great Requests

Return to Original Nature
Right Identity
Right Questions for Self-Talk

Ask Your Self-Talk:
Self-Talk Is in the Way
Self-Talk Speak Seriously

See No Evil, Hear No Evil, Speak No Evil
Self and Knowing, Doing, and Being

Right Approaches to Knowing, Doing, and Being

Self Exists in 3 Relations
Singleness, Single File, Simplicity

Words for Singleness
Simple Works Wonders

Skills of Self
Solitude
Test the Spirits
Words of Right Living

"S" Words
"R" Words
Miscellaneous Words
---
Enemies of Self
Acceptance of Persons
Becoming Is Ego

Becoming Thinking Errors or Sins
Becoming Is …
Progress

Choice As Self

Negative Self-Identity

Symptoms of Negative Self-Esteem as Choice

Positive Self-Identity

Symptoms of Positive Self-Esteem as Choice

Empty Self-Identity

Claiming or Trying

Instead of Claiming or Trying:
Many Faces of Claiming
Names for Claiming
Churchians Claim

Claiming or Trying to Change

Test the Idea of Changing Your Self

Claiming or Trying to Control

Test the Idea of Controlling Your Self
4 Responsibilities
4 Ways You Keep Hosting

Claiming or Trying to Create
Claiming or Trying to Undo
Duplicity

Dependence on Duplicity
Tricks of Duplicity
Names for Duplicity

Ego Turns Emotions into Enemies

Ego Guilt
Ego Shame
Ego Anger
Ego Anxiety
Ego Depression

Ego Eradicates Self
Four Faces

4 Internal Faces
6 Expressions
Four-Faces Facts

False Faces
True Faces
Switch Faces
Self Faces
Ego Faces
God's Face

Law and Method
Learning and Progress
Personality Typing Disguises Self
Pride Destroys Self
Pursuit of the Now Is Misleading
Self-Esteem Steals Souls

3 Parts of Self-Esteem
Right Self-Esteem

Self-Talk Starves Self

Right Self-Talk
Other-Talk
Life-Talk
Angel-Talk
God-Talk
Wrong Questions for Self-Talk
End Self-Talk
Self-Talk Serves Darkness
Replace Self-Talk
4 Crucial Self-Talk Facts
One Trick of Self-Talk

Trying to Be Good Is Evil
Voices As Self
Whining, Blaming, and Damning
"Who am I?" Is the Wrong Question
Works
Wrong Expressions
---
Miscellaneous
Addition and Subtraction
Addition, Magnifying, and Internal Conflict
3 Attribution Charts for Thinking
Beyond Good and Evil
Logic Proves God

One Self
Image of Self Is Not Self

Memory As Instinct
Repetition
Self and Shields
Self As Knowledge of Not
Unconscious Source of Ideals

Positive Over Negative
Variations on Self as Speaker

Miscellaneous Quotations of FitzMaurice
---
End
About the Author
Recommended Books, Alphabetically by Author
How to Read FitzMaurice's Books
FitzMaurice's Books

Book Descriptions
99¢ Books
How to Change the World
How to Live Maturely
How to Make Stress Work for You
How to Have a Super Attitude
How to End Ego
How to Stop Failing
How to Use CBT for Self-Help
How to Relax in 4 Seconds

Enjoy!
---

 NOW
---