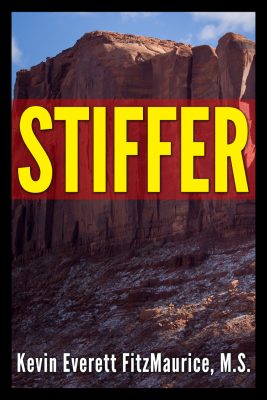 ---
Table of Contents for the book Stiffer: Stoic Mind
Garden will teach you an easy and effective system of Cognitive Behavioral Therapy (CBT & REBT).
REBT practitioners update your practice for greater effectiveness & efficiency with Not.
Ego will help you to live sane in an insane world of competing ego-stories.
Stiffer: Stoic Mind will teach you the STPHFR system to Gain a Stoic Mind.
---
Notes on this Table of Contents
This table of contents also serves as an index and outline for the book.
This table of contents is based on the print version. The ebook version will have different page numbers.
---
PDF Table of Contents for Stiffer: Stoic Mind—It Will Open in a New PDF Window
---
CB: Beginning of Book 11
Introduction: Chapter B 11
Title 12
Copyright 12
ISBN 13
Dedication 13
Description 14
Notes on the Text 16
10 Approaches to Sanity 19
---
C1: Psychology Begins with S-R 23
Introduction: Chapter 1 23
Cause & Effect 23
Stimulus & Response (S-R) 25

Sensations Defined 26
Taste & Interpretation of Sensations 28
Feelings Defined 31

FIDOC: What Gets Your Attention? 33

Table: FIDOC Grabs Your Attention 35

5Fs Survival Responses 35

Table: 5Fs of the Survival Instinct 36

Psychology Started with S-R 36

S-R Thinking Defined 39
Boredom Example of S-R Model 40
Science & S-R Thinking 42
Ego & S-R Processing 44
---
C2: Psychology Advances to S-T-R 49
Introduction: Chapter 2 49
Development of the S-T-R System 53

S-T-R Advancements 57
Table: Ellis's 11 Irrational Beliefs 59
Table: Beck's 7 Thinking Errors 60

Baby's S-F-R Variation 61
Animals & Plants S-I-R Variation 62
---
C3: S-T-P-H-F-R Advancement 65
Introduction: Chapter 3 65
STPHFR Definitions 66
STPHFR Defined 68

STPHFR Generic Model 69
Table: Easy STPHFR Model 70
Infographic: STPHFR 70

STPHFR Emotions & Behaviors 72

STPHFR Driven by Feelings 72
Understanding Feelings 74

STPHFR 5 Intervention & Choice Points 79

Table: STPHFR 5 Interventions 81

Questions to Find TPH 82

What Is T About? 82
What Is P About? 84
What Is H About? 87
Script Questions 89

STPHFR Worksheet for Mapmaking 91

Table: STPHFR Worksheet 92
Table: 3Rs (Recognize, Remove, Replace) 93
Table: Example STPHFR Map & 3Rs 96

Download Worksheets 97
---
C4: STPHFR Insights 101
Introduction: Chapter 4 101
Deeper Into the Model 101

STPHFR More than (T) 102
Stimulus (S) More than (S) 103
Beyond (T) to Playback (P) 105
Beyond (P) to Hearting (H) 108
Beyond (H) to Feeling (F) 109
Beyond (F) to Feeling (R) 110

STPHFR Nature of Experience 112
STPHFR As Emotional Responsibility 114
---
C5: STPHFR Combinations 119
Introduction: Chapter 5 119

Lowering & Reducing P & H 120
Table: 5 Thinking Positions (5TP) 121
Table: Example Terms for 5TP 123
Exercise Description 124

ACPD Thinking Errors & STPHFR 126

Table: ACPD Thinking Errors 127
Results of ACPD Thinking Errors 129
Exercise Description 132

Download All Handouts 134

17 Handouts Are Available for Free 135
---
C6: Thought-Things & Ego 139
Introduction: Chapter 6 139
Thought-Things 143

Ego Made of Thought-Things 144
Ego Payoffs Are Thought-Things 146
Thought-Thing Addiction 150

Animated & Emotional 152

Animated & Emotionalized Problems 154

Thoughts Are Neutral, Not Thought-Things 155

Thoughts & Contents Are Static 157
Thought-Things Are Thoughts 158
Characteristics of Human Thinking 160
Verbal Realities Are Thoughts 161
---
C7: Mixed STPHFR Topics 165
Introduction: Chapter 7 165
Switching: 3 Superpowers 166

Switching: 3 Main Targets 170
Meditation Exercise 172
Table: 8 Thinking Skills for Switching 172

Stop Hearting Identities 173

Table: You're Not STPHFRs 175

Ego Danger & Negative STPHFRs 177

Ego Danger in 7 Steps 177
Ego Danger in 12 Steps 178

Inflexibility & Flexibility 180
Mind Matters 183
Notes on the Systems 185
Master S-R: Coming Full Circle 185

Monk S-T-R: Not Yet a Master 186
---
C8: Expectations & Suffering 189
Introduction: Chapter 8 189
Expectations Cause Suffering 190
Quotations on Expectations 192
---
C9: Superstitions about Feelings 201
Introduction: Chapter 9 201
Table: 13 Feeling Superstitions 203
1. People Transmit Feelings Into Me 205
2. People Cause My Feelings 207
3. "It" Transmits Feelings into Me 209
4. "It" Causes My Feelings 213
5. Express Feelings, Heal Feelings 215
6. Express Feelings, End Feelings 217
7. Express Feelings, Cope with Feelings 219
8. Express Feelings, Change Feelings 221
9. Feelings Must Express, Else Burst! 223
10. Feelings Cannot Be Controlled 225
11. Feelings Cannot Be Regulated 228
12. All Feelings Are Good 230
13. I Have to Act the Way I Feel 231
Table: Healthy & Unhealthy Feelings 234
---
CE: End of Book 237
Introduction: Chapter E 237
About the Author 238

Professional Life & Philosophy 239
Early Years & Motivation 240
Wounded Healer 248
Professional Credentials 249

Table: Books for 7 Steps to Sanity 251

Step 1: Practice Emotional Responsibility 251
Step 2: Upgrade Coping & Problem-Solving 252
Step 3. Discover & Reduce Ego Control 253
Step 4. Rediscover Authentic Self 254
Step 5. Upgrade Thinking Skills 255
Step 6: More Responsibility & Less Ego 256
Step 7: Improve World & Communication 257

Recommended Books by Author 258
How to Read FitzMaurice's Books 274
FitzMaurice's Books 275

Book Descriptions 275
99¢ Books 275
How to Change the World 275
How to Live Maturely 276
How to Make Stress Work for You 276
How to Have a Super Attitude 276
How to End Ego 277
How to Live a Positive Life 277
How to Use CBT & REBT for Self-Help 277
How to Practice Instant Yoga 277

Enjoy! 278
---