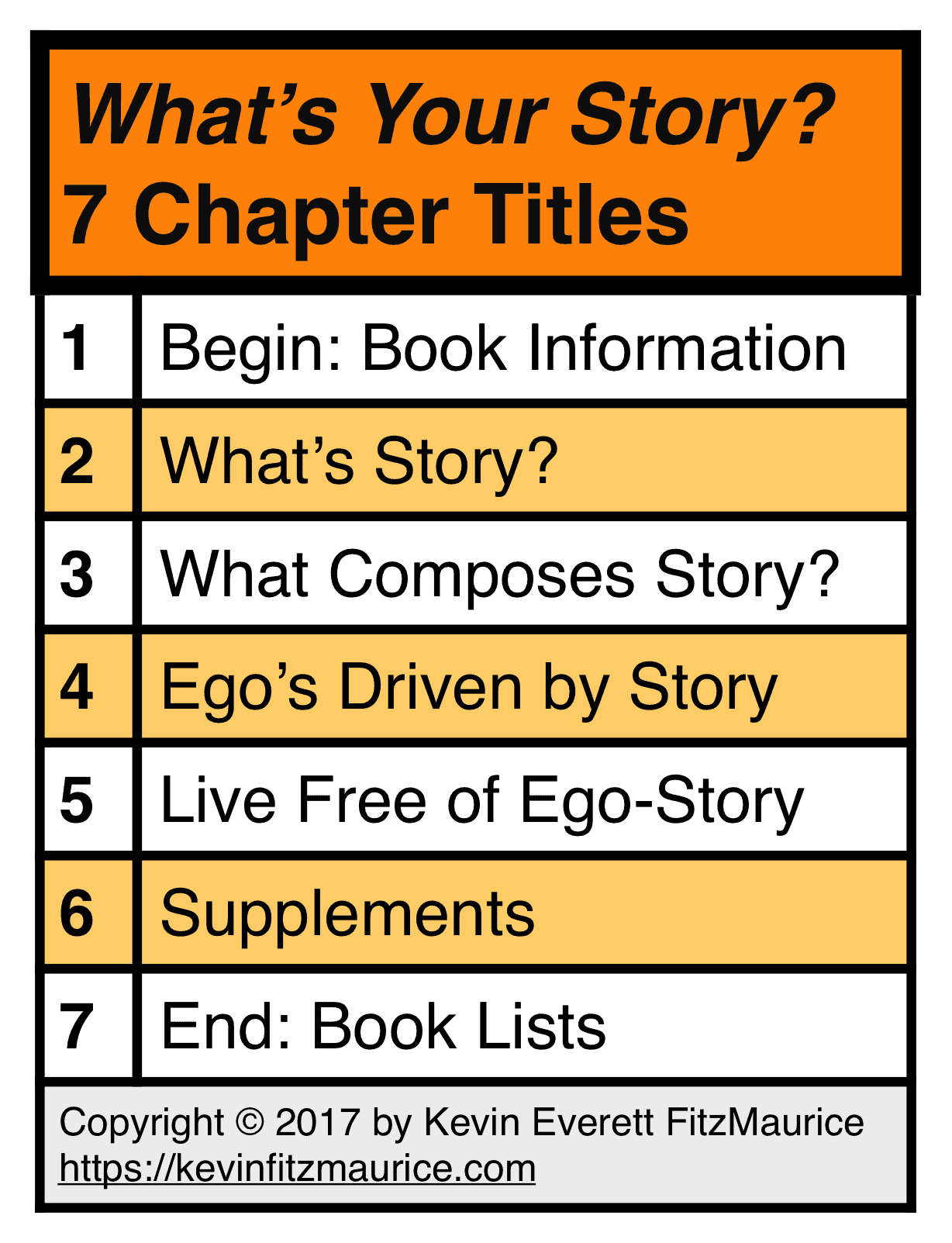 ---
Garden will teach you an easy and effective system of Cognitive Behavioral Therapy (CBT).
REBT practitioners update your practice for greater effectiveness & efficiency with Not.
Ego will help you to live sane in an insane world of competing ego-stories.
---
Notes on this Table of Contents
This content list also serves as both an index and an outline for the book.
Seeing the actual content list, you will recognize the amount of information and the detail provided that will enable you to not only understand the nature of story—but also to apply that knowledge to your identity, relationships, and responses.
Use this page for information, reference, and search functions for the book What's Your Story?
---
PDF Table of Contents for What's Your Story?: It Will Open in a New PDF Window
The pdf file is from the book printing and does not look like the contents below.
---
CONTENTS ORGANIZED BY CHAPTER
---
Begin
Title

What's Your Story?
Copyright
ISBN

Dedication
Description
10 Approaches
---
What's Story?
Story Is…
What Can Story Do?

Story Can Do
Story Cannot Do

Relationship of Story and Self-talk

Five Levels of Ego
Continuum of Pride and Shame
Five Kinds of Inferiority and Superiority

Five Kinds of Inferiority
Five Kinds of Superiority

What's the Story of This Book?

Main Chapters of This Book
---
What Composes Story?
Story's Elements

Knowledge
Beginning, Middle, End
Unknown or Mystery
What, How, Why
Know, Do, Be

Types of Story

Tragedy
Comedy
Action
Drama

Story in Three Words
Story's Important Because…
Story about Story
Audience

How Many Audiences?

God as Audience
Self as Audience
Others as Audience
---
Ego's Driven by Story
Ego-Story

Ego-Talk and Ego-Story
Ego-Story Won't Ask

Dance of Pride and Shame

Shame or Ego Pain
Pride or Ego Pleasure

Eight Parts of Ego-Story
Challenge Ego-Story
---
Live Free of Ego-Story
Can You Live without Story?

Keep These Stories

Three General Examples of Okay Stories

Kick Out These Stories
One Story

False Methods of Ending Ego-Story

Change the Story
Control the Story
Capture and Imprison the Story
Condemn and Persecute the Story
Compare and Criticize the Story
Convert the Story
Correct the Story
Convince and Conform the Story

Recognize Ego-Story
Remove Ego-Story
Replace Ego-Story

Replace Statements
Freedom from Ego
Find Your Self

Recognize Two Primary Paths

Two Paths: Positive Versus Negative
Do the Opposite of Your First Choice
Pressures to Choose the Negative Path
Pushes to Choose the Positive Path

Possible Pushes to the Positive

Five Steps to Take the Negative Path

Example of the Five Negative Steps

Five Steps to Take the Positive Path

Example of Five Steps to Positive Path

Cognitive Behavioral Therapy (CBT)
---
Supplements
Expectations Are Story
Five Actions of Self
Truth Stages: What, How, Why

Variation One
Variation Two

Problem Solving Steps

Preliminary Questions before Problem Solving

Story from Daily Dose of Discernment

2014-10-05
2014-10-06
2014-10-07
2014-10-08
2014-10-09
2014-10-10
2014-10-11
2014-10-16
2014-10-23
2014-10-28
2014-10-29
2014-11-07
2014-11-15
2014-11-16
2014-11-17
2014-11-18
2014-11-19
2014-11-28

REBT's the Deepest Therapy: 10 Reasons

Seven Philosophical Reasons
Two Counseling-Practice Reasons
Emotional Realism Makes REBT Deeper

Healthy and Unhealthy Feelings Chart
---
End
About the Author
Books Recommended by Usage

1. Discover Emotional Responsibility
2. Discover Ego
3. Discover Self
4. Coping Skills
5. Supporting Works
6. Miscellaneous Works
Other Languages than English

Recommended Books, Alphabetically by Author
How to Read FitzMaurice's Books
FitzMaurice's Books

Book Descriptions
99¢ Books
How to Change the World
How to Live Maturely
How to Make Stress Work for You
How to Have a Super Attitude
How to End Ego
How to Live a Positive Life
How to Use CBT for Self-Help
How to Practice Instant Yoga

Enjoy!
---

 NOW
---