Description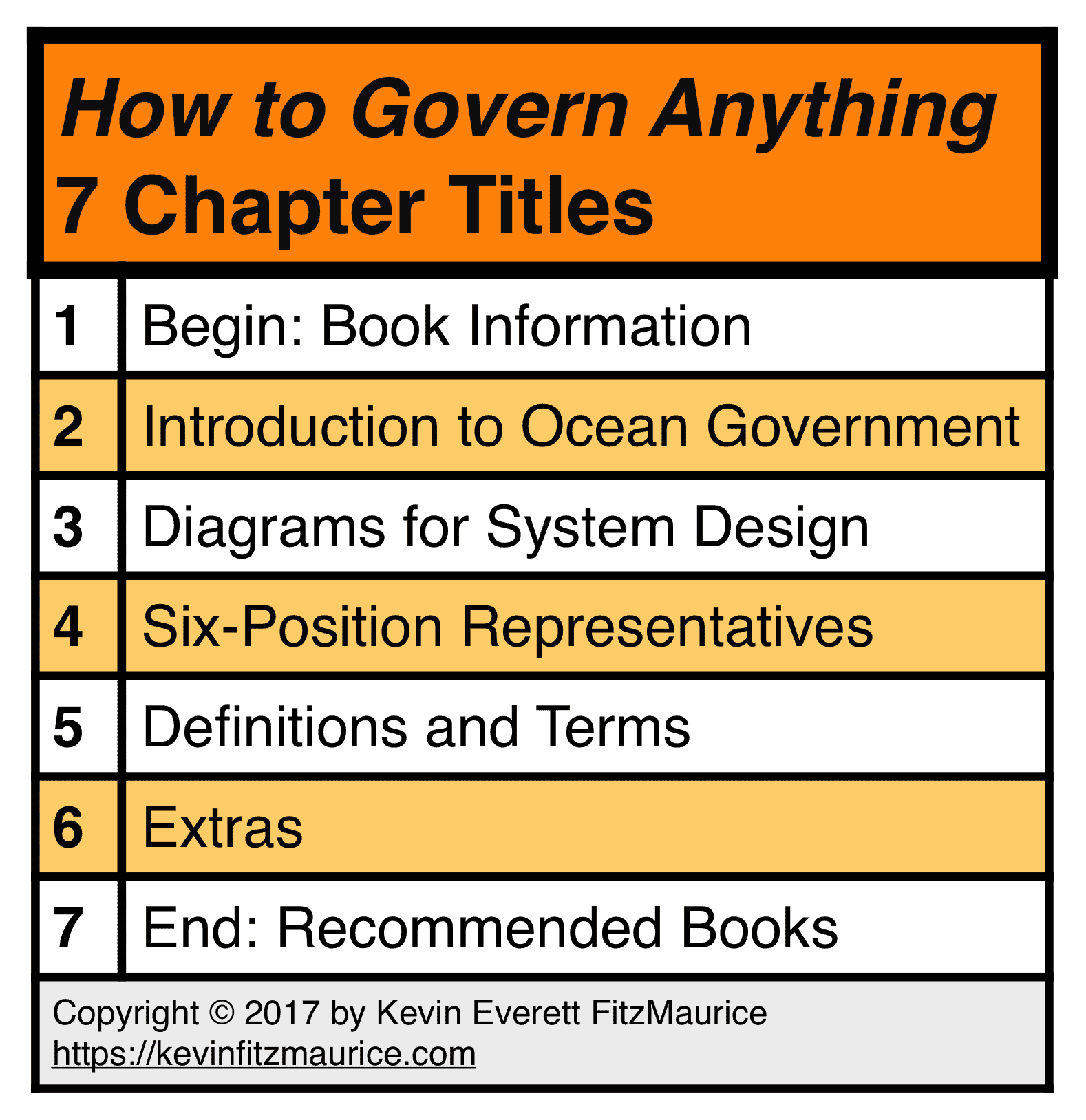 "Nothing will ever be attempted if all possible objections must first be overcome." —Samuel Johnson
---
Choose to Discover and Learn—
How To Save the World?
Change the Systems that Run the World
How To Govern Better?
Use the New "Ocean Government" System
---
Quickly Rate & Understand the Crucial Difference Between Systems of Government
The ultimate and deciding factor for rating and understanding different forms of human-systems of government is to ask how many people affect decisions by sending their wishes upstream.
You can then ask how many higher levels can the lower levels of social input effect in any tangible and realistic ways.
It turns out that Democratic systems allow more influence by the people than do Socialistic systems, which allow more influence by the people than do Communistic systems.
The Ocean Government system allows for the highest possible influence by the people on decisions at all levels of government. No other system comes close.
If you care about people influencing government instead of corporations, entrenched bureaucracies, special-interest groups, millionaire and professional politicians, billionaires, and other elites, then experiment with the Ocean Government system.
People gain fame and fortune from focusing on social-problems more often than from focusing on social-solutions.
It is challenging to get people to experiment with a new solution because people are too busy profiting from dealing with current problems.
Be the innovator you were meant to be and make a difference now.
---
First New System of Government in Centuries
In this "how to" book, discover the first new major government system to be developed in centuries, a form of government that also functions as its own think tank.
What system of government is better than democracy, socialism, and communism combined?
The New "Ocean Government" System
First Organic System for Releasing Intelligence
This "how to" book was many years in the making. Some lyrics in the song "Revolution" by the Beatles can be interpreted to mean that any revolution without a new plan is pointless. This interpretation challenged FitzMaurice to create a new and better plan for governments. The result he calls "Ocean Government." The excuses end now. For the right method to use to cause a revolution, visit http://www.aeinstein.org/. For the right method to use to rule after the revolution, use this book.
Why fight to develop your own system to govern people, when you can save yourself the time and effort with a system that's easy to implement and use? Learn the Ocean Government system, and learn how to govern anything in the best possible way.
Ocean Government is advantageous for governing associations, countries, corporations, colleges, communes, co-operatives, clubs, churches, temples, institutions, schools, and organizations of any kind. Ocean Government will work for Communist States, Democracies, Dictatorships, Monarchies, Noocracies, Oligarchies, Presidential Republics, Parliamentary Republics, Socialist Republics, Theocracies, or any form of government.
It is simple to set up and easy to continue. There is every reason to switch to the Ocean Government system, and no reason not to give up antiquated systems of government. This book gives you all the tools and knowledge you need to institute the superior Ocean Government form of government today. The only financial cost to you is the cost of this book.
For a synopsis of the government system, click here.
---
The Benefits of Ocean Government
The Ocean Government system provides many benefits, including but not limited to:
equal representation of the governed
fair representation of the governed
greater adaptability of governmental systems
greater interest in government processes by the populace
greater participation by the governed
greater responsibility of the governed
greater responsiveness of government systems
higher functioning governmental systems
higher motivated populations
increased effectiveness and efficiency of governmental systems
less bureaucracy in government
less control by rich corporations
less control by special interest groups
less corruption in government
less disenfranchised populations
less expensive government
less injustice in government
less taxation of the governed
more belonging among the governed
more freedom of the governed
more human rights in the governed
more intelligent government
more money owned by the governed
more multiculturalism in government
more openness and transparency in government
more pride in government
more problem ownership by the governed
more promotion of the most fit to govern
These benefits are explored in greater detail at the end of the first chapter, but to sum them up: This system of government gets results that other systems don't, won't, and can't. It will be interesting to see which countries and forms of government adopt the Ocean Government first.
The complete system of government provided in this book includes all the necessary rules and procedures for running an Ocean Government system. You can use the government model as provided or modify it to suit your needs. Most will want to start with the basic system from this book and then continually modify that governmental model over time as experience and conscience warrant.
---
Some Advantages of Ocean Government
---
---
The Book Chapters
The first chapter describes the Ocean Government system.
The second chapter provides diagrams for the structure and design of the Ocean governing system.
The third chapter explores details for the movement of government representatives.
The fourth chapter presents explanations for the terms used in forming an Ocean Government.
The fifth chapter supplies contributed models, suggestions, and additions you might wish to consider.
The metaphor and fundamental design element for the structure of Ocean Government is a river ending in the ocean. This structure is diagramed at every level to make it easy to understand, apply, and reference. You begin with springs feeding tributaries. You move to tributaries feeding streams and then to streams feeding rivers. Last, you arrive at rivers feeding the ocean. Finally, you reach a system of government that rewards intelligence, cooperation, and participation at every level.
"Democracy is the worst form of government, except for all the others."–Winston S. Churchill (quoting someone else)
---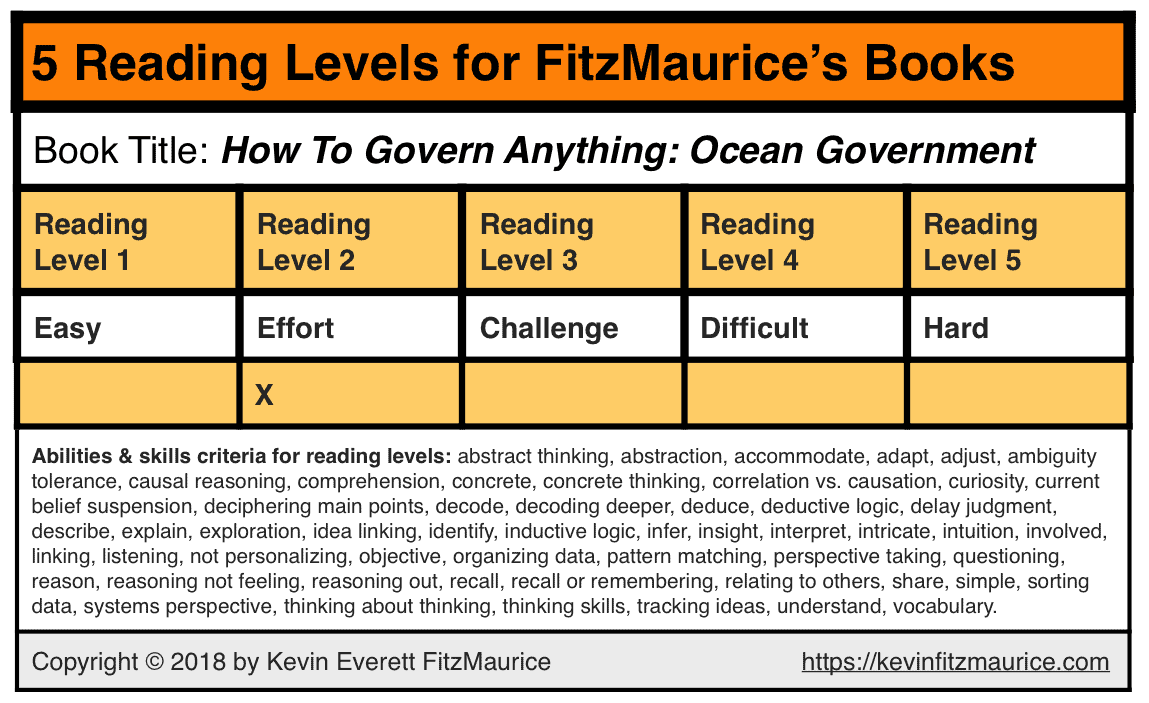 ---
Free Book Preview
---
---