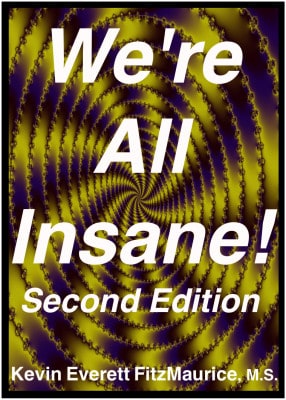 ---
Simple & Simplicity Show Intelligence
We're All Insane! Second Edition will teach you how to think better and saner.
Lex parsimoniae (Latin), Occam's razor, Ockham's razor is the law of parsimony or the act of choosing the simpler answer over the more complicated answer when the correct answer remains unknown.
Occam's razor can also be stated as a rule for choosing between competing hypothetical-solutions by choosing the one that has the fewest assumptions or unknowns. This is a practical principle because simpler theories are more testable than are complex or convoluted theories.
---
Quotations from Various Sources
Organized Alphabetically
"A little simplification would be the first step toward rational living, I think." —Eleanor Roosevelt
"A mathematical theory is not to be considered complete until you have made it so clear that you can explain to the first man whom you meet on the street." —David Hilbert
"A short saying often contains much wisdom." —Sophocles
"A single rose can be my garden… a single friend, my world." —Leo Buscaglia
"Adorn thyself with simplicity and modesty and with indifference towards the things which lie between virtue and vice." —Marcus Aurelius
"All is simple at the start or there is no start." —Kevin Everett FitzMaurice
"All journeys must start simply." —Kevin Everett FitzMaurice
"All true beginnings are simple." —Kevin Everett FitzMaurice
"All understanding starts simply." —Kevin Everett FitzMaurice
"And consider if magnanimity, freedom, simplicity, equanimity, piety, are not more agreeable." —Marcus Aurelius
"Any intelligent fool can make things bigger and more complex… It takes a touch of genius–and a lot of courage to move in the opposite direction." —Albert Einstein
"Any intelligent fool can make things bigger, more complex, and more violent. It takes a touch of genius—and a lot of courage to move in the opposite direction." —E.F. Schumacher, Small is Beautiful: A Study of Economics As If People Mattered
"At basis all things are simple. It is only in relationship that things become complicated." —Kevin Everett FitzMaurice
"Be as simple as you can be; you will be astonished to see how uncomplicated and happy your life can become." —Paramahansa Yogananda
"Be like a postage stamp, stick to one thing until you get there." —Josh Billings
"But I fear, lest by any means, as the serpent beguiled Eve through his subtilty, so your minds should be corrupted from the simplicity that is in Christ." —2 Corinthians 11:3
"But the affectation of simplicity is like a crooked stick." —Marcus Aurelius
"By forming thyself hourly to freedom conjoined with contentment, simplicity, and modesty." —Marcus Aurelius
"Complexity is your enemy. Any fool can make something complicated. It is hard to make something simple." —Richard Branson
"Concentrate all your thoughts upon the work at hand. The sun's rays do not burn until brought to a focus." —Alexander Graham Bell
"Everything should be made as simple as possible, but not simpler." —Albert Einstein
"Everything simple is false. Everything which is complex is unusable." —Paul Valéry
"Everything that can be said can be said clearly." —Ludwig Wittgenstein
"Finding a way to live the simple life today is man's most complicated task." —Henry A. Courtney
"For our rejoicing is this, the testimony of our conscience, that in simplicity and godly sincerity, not with fleshly wisdom, but by the grace of God, we have had our conversation in the world, and more abundantly to you-ward." —2 Corinthians 1:12
"For right reason is simple and of but one kind." —Seneca
"For the bewitching of naughtiness doth obscure things that are honest; and the wandering of concupiscence doth undermine the simple mind." —Wisdom of Solomon 4:12
"For who is he that shall hinder thee from being good and simple?" —Marcus Aurelius
"For your obedience is come abroad unto all men. I am glad therefore on your behalf: but yet I would have you wise unto that which is good, and simple concerning evil." —Romans 16:19
"Going back to a simpler self gives wisdom." —Rumi
"Greatness of spirit is accompanied by simplicity and sincerity." —Aristotle, Virtues and Vices
"He who can properly summarize many ideas in a brief statement, is a wise man." —Euripides
"He who has not one and always the same object in life, cannot be one and the same all through his life." —Marcus Aurelius
"I do not think that any civilization can be called complete until it has progressed from sophistication to unsophistication, and made a conscious return to simplicity of thinking and living." —Lin Yutang
"I have just three things to teach: simplicity, patience, compassion. These three are your greatest treasures." —Lao Tzu
"I think a lot of people see simplicity as the lack of clutter. And that's not the case at all. True simplicity is, well, you just keep on going and going until you get to the point where you go, 'Yeah, well, of course.' Where there's no rational alternative." —Jony Ive
"If you cannot explain it simply, you don't understand it well enough." —Albert Einstein
"If you cannot state it simply, then you do not know it." —Kevin Everett FitzMaurice
"If you simplify and focus your goal and efforts, then you get right results." —Kevin Everett FitzMaurice
"If your action is not simple, then your action is not skilled." —Kevin Everett FitzMaurice
"If your choice is not simple, then your choice is dishonest." —Kevin Everett FitzMaurice
"If your feeling is not simple, then your feeling is not genuine." —Kevin Everett FitzMaurice
"If your thinking is not simple, then your thinking is not straight." —Kevin Everett FitzMaurice
"It is always the simple that produces the marvelous." —Amelia Barr
"It is simplicity that makes the uneducated more effective than the educated when addressing popular audiences." —Aristotle, Rhetoric
"Just as lies are complicated so too are false teachings and theories." —Kevin Everett FitzMaurice
"KISS: Keep It Simple, Silly." —Aphorism
"Knowledge is a process of piling up facts; wisdom lies in their simplification." —Martin Fischer
"Life is really simple, but we insist on making it complicated." —Confucius
"Make things as simple as possible, but not simpler." —Albert Einstein
"Make thyself all simplicity." —Marcus Aurelius
"Making the simple complicated is commonplace; making the complicated simple, awesomely simple, that's creativity." —Charles Mingus
"My teachings are simple; if you try to make a religion or science of them, they will elude you." —Huahujing
"Our life is frittered away by detail… simplify, simplify." —David Henry Thoreau
"Perfection is achieved, not when there is nothing more to add, but when there is nothing left to take away." —Antoine de Saint-Exupery
"Quite simple really,' —Watson, 'Yes, like all great things." —Sherlock Holmes
"Science may be described as the act of systematic oversimplification." —Karl Popper
"Simple can be harder than complex. You have to work hard to get your thinking clean to make it simple. But it is worth it in the end, because once you get there, you can move mountains." —Stephen Paul "Steve" Jobs, American entrepreneur and inventor, 1955-2011
"Simple is the speech of truth." —Aeschylus, fragment, Oplon Krisis
"Simplicity is not a simple thing." —Charles Chaplin
"Simplicity is not the goal. It is the by-product of a good idea and modest expectations." —Paul Rand
"Simplicity is the glory of expression." —Walt Whitman
"Simplicity is the key to brilliance." —Bruce Lee, martial arts innovator
"Simplicity is the ultimate sophistication." —Leonardo da Vinci
"Simplicity is the way of intelligence."—Jiddu Krishnamurti, 1895–1986, Indian philosopher, Commentaries on Living, Third Series, p. 175
"Sometimes the questions are complicated and the answers are simple." —Dr. Seuss
"The art of art, the glory of expression, is simplicity. Nothing is better than simplicity, and the sunlight of letters is simplicity. Nothing is better than simplicity–nothing can make up for excess, or for the lack of definiteness." —Walt Whitman
"The field of consciousness is tiny. It accepts only one problem at a time." —Antoine de Saint-Exupery
"The firm, the enduring, the simple, and the modest are near to virtue." —Confucius
"The greatest truths are the simplest things in the world, simple as your own existence." —Swami Vivekananda
"The language of truth is simple." —Seneca, Roman Stoic philosopher
"The LORD preserveth the simple: I was brought low, and he helped me." —Psalms 116:6
"The method of maintaining righteousness is simple; the method of maintaining wickedness is complicated, and has infinite opportunity to swerve." —Seneca
"The trouble with so many of us is that we underestimate the power of simplicity." —Robert Stuberg
"Those of you who are scattered simplify your worrying lives." —Rumi
"Thou will soon die, and thou art not yet simple." —Marcus Aurelius
"Truth is simple and lies are complicated." —Kevin Everett FitzMaurice
"Whatever is at the center of our life will be the source of our security, guidance, wisdom, and power." —Stephen Covey
"When the solution is simple, God is answering." —Albert Einstein
"Whoever knows he is deep, strives for clarity; whoever would like to appear deep to the crowd, strives for obscurity. For the crowd considers anything deep if only it cannot see to the bottom: the crowd is so timid and afraid of going into the water." ― Friedrich Nietzsche
"Wilt thou, then, my soul, never be good and simple and one and naked, more manifest than the body which surrounds thee?" —Marcus Aurelius
"Without publicity or fanfare, enlightened beings continue their lives as ordinary people and live out their days in simplicity and contentment, unknown to the world and unaffected by its conventions." —Lie Yukou
"Yes, everything is simple. It's people who complicate things." —Albert Camus
"You may build a complicated barn, but each act of building was simple or in error." —Kevin Everett FitzMaurice
---
Related Page