---
Exercise Your Power: Choose Your Attitude Now
"Nor, again, can the will be right without a right attitude of mind; for this is the source of will." —Seneca
---
ATTITUDE POWER
Attitude Power helps you to become more aware of your attitudes and the effects your attitudes have on you, your competence, relationships, and stress.
Your awareness of your attitudes allows you to switch from ineffective or damaging attitudes to effective or helpful attitudes. Attitude Power can be used to lower your stress by helping you to choose a less stressful attitude.
Attitude Power helps you to become responsible for your attitudes and stress. Responsibility regains control lost to victimhood.
Your responsibility for your attitudes allows you to regain your personal power and to take charge of your attitudes. When you are feeling stress, you are more likely to look for internal methods of dealing with the stress than to blame uncontrollable external sources; hence, you are better able to lower your stress.
Attitude Power helps you to choose the most effective attitude for the situation. You learn also to choose to choose again after testing the results of your attitude choices.
You can cope more effectively because your attitude not only does not get in the way of your coping–your attitude helps you deal effectively with the situation. Your stress is lower as you are more effective. You achieve more of what you want to achieve by choosing the attitude that will help you the most.
Attitude Power teaches the practice of acceptance when you cannot change things for the better. Acceptance overcomes stress.
You are free of bad stress. You do not let bad stress get worked out on your body, which leads to medical problems. You allow good stress to get things done. You switch from bad stress to prevent apathy, burnout, conflicts, cynicism, disease, fights, and illness.
---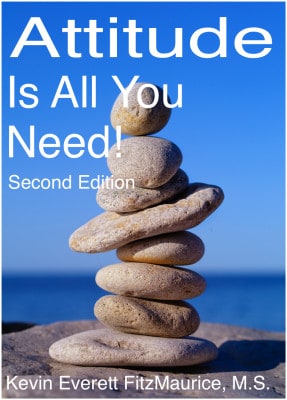 ---
Quotations from Various Sources
Organized Alphabetically
"Certainly virtue is like precious odors, most fragrant when they are incensed, or crushed: for prosperity doth best discover vice, but adversity doth best discover virtue." —Sir Francis Bacon, 1561-1626
"Difficulties are things that show what men are." —Epictetus
"Each player must accept the cards life deals him or her: but once they are in hand, he or she alone must decide how to play the cards in order to win the game." —Voltaire
"Ex Malo Bonum (good out of evil)." —St. Augustine
"For what glory is it, if, when ye be buffeted for your faults, ye shall take it patiently? but if, when ye do well, and suffer for it, ye take it patiently, this is acceptable with God." —I Peter 2:20
"I keep the telephone of my mind open to peace, harmony, health, love and abundance. Then, whenever doubt, anxiety or fear try to call me, they keep getting a busy signal–and soon they'll forget my number." —Edith Armstrong
"If things go wrong, don't go with them." —Roger Babson
"Man needs difficulties; they are necessary for health." —Carl Jung
"Never say of anything I have lost it, only say that I have given it back." —Epictetus
"Nothing in the world will take the place of persistence. Talent will not; nothing is more common than the unsuccessful person with talent. Genius will not; unrewarded genius is almost a proverb. Education will not; the world is full of educated derelicts. Persistence and determination alone are omnipotent. The slogan 'press on' has solved and always will solve the problems of the human race." —Calvin Coolidge
"The greater the difficulty the more glory in surmounting it. Skillful pilots gain their reputation from storms and tempests." —Epictetus
"There's a victory and defeat–the first and best of victories, the lowest and worst of defeats–which each man gains or sustains at the hands not of another, but of himself." —Plato, Protagoras
"Things turn out best for the people who make the best out of the way things turn out." —Art Linkletter
"To overcome difficulties is to experience the full delight of existence." —Arthur Schopenhauer
"Twenty years from now you will be more disappointed by the things you didn't do than by the ones you did do. So throw off the bowlines. Sail away from the safe harbor. Catch the trade winds in your sails. Explore. Dream. Discover." —Mark Twain
"We must embrace pain and burn it as fuel for our journey." —Kenji Miyazawa
"Whatever may be our condition in life, it is better to lay hold of its advantages than to count its evils." —E. H. Chapin