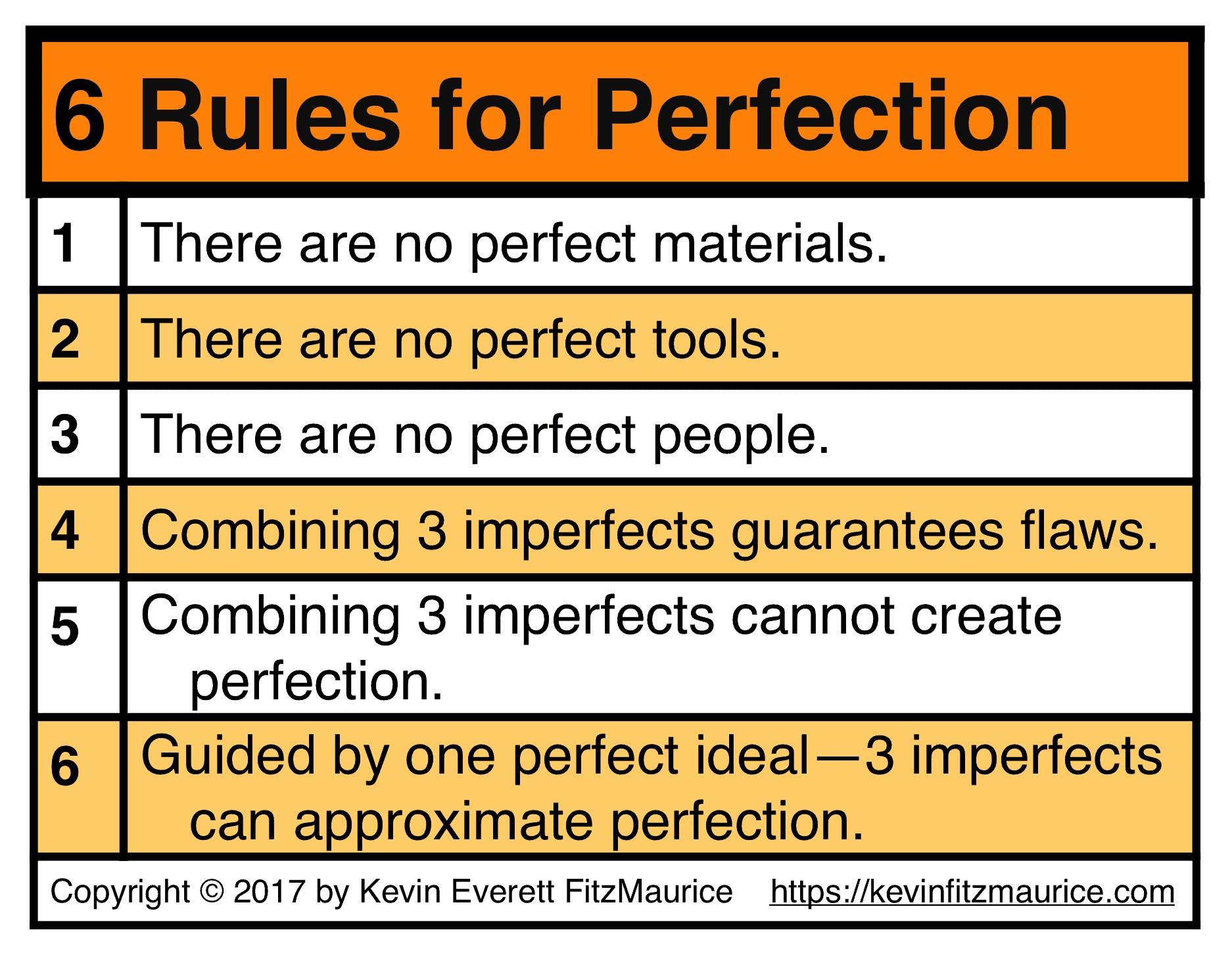 ---
Use Perfectionism Well
"High achievement always takes place in the framework of high expectation." —Charles F. Kettering
"Perfection is the child of time." —Joseph Hall
---
Naturally, perfectionism also has its place.
"Use perfecting as a goal, a process — not as an end result. As Nebraska counselor Kevin FitzMaurice says, 'Shoot for the stars, but be happy if you land on the moon!'" —Albert Ellis, Feeling Better, Getting Better, Staying Better, p. 105
Perfectionism is not the problem. How you use or misuse perfectionism is the problem.
If you want to reach the stars, you must aim high.
If you shoot for the stars, you can land on the moon.
Shooting for the stars is good as long as you are satisfied when you reach the moon instead of the stars.
Have the highest possible goals, however, also have the highest possible acceptance for what you get in the end.
Since there are neither perfect materials nor perfect tools on planet Earth, there can be no perfect products.
Without perfectionism, quality control becomes only a joke.
Without perfectionism, you cannot expect to compete in a global economy.
---
Perfectionism Is Not the Problem
Rather, it is how you deal with your high ideals along the way and at the end of the journey.
Just as a ship used to use the stars to guide itself from port to port, so too can you use high ideals to guide yourself from one practical position to another.
To give up perfectionism in the name of moderation or acceptance is to betray both principles.
Perfectionism without acceptance is the problem. Just as acceptance without perfectionism is the problem.
Slobs love to say the organized are perfectionistic, anal retentive, compulsive, obsessive-compulsive, etc. Do not give up the good because it embarrasses the lazy!
---
Quotations from Various Sources
Organized Alphabetically
"For what glory is it, if, when ye be buffeted for your faults, ye shall take it patiently? but if, when ye do well, and suffer for it, ye take it patiently, this is acceptable with God." —I Peter 2:20
"Good enough isn't." —Kevin Everett FitzMaurice
"Good is the enemy of great." —Jim Collins
"High achievement always takes place in the framework of high expectation." —Charles F. Kettering
"If you would hit the mark you must aim a little above it." —Henry Wadsworth Longfellow
"Perfection is the child of time." —Joseph Hall
"Use perfecting as a goal, a process — not as an end result. As Nebraska counselor Kevin FitzMaurice says, 'Shoot for the stars, but be happy if you land on the moon!'" —Albert Ellis,
"Use perfecting as a goal, a process — not as an end result. As Nebraska counselor Kevin FitzMaurice says, 'Shoot for the stars, but be happy if you land on the moon!'" —Albert Ellis, Feeling Better, Getting Better, Staying Better, p. 105
---
Book on How to Think Beyond Good & Evil