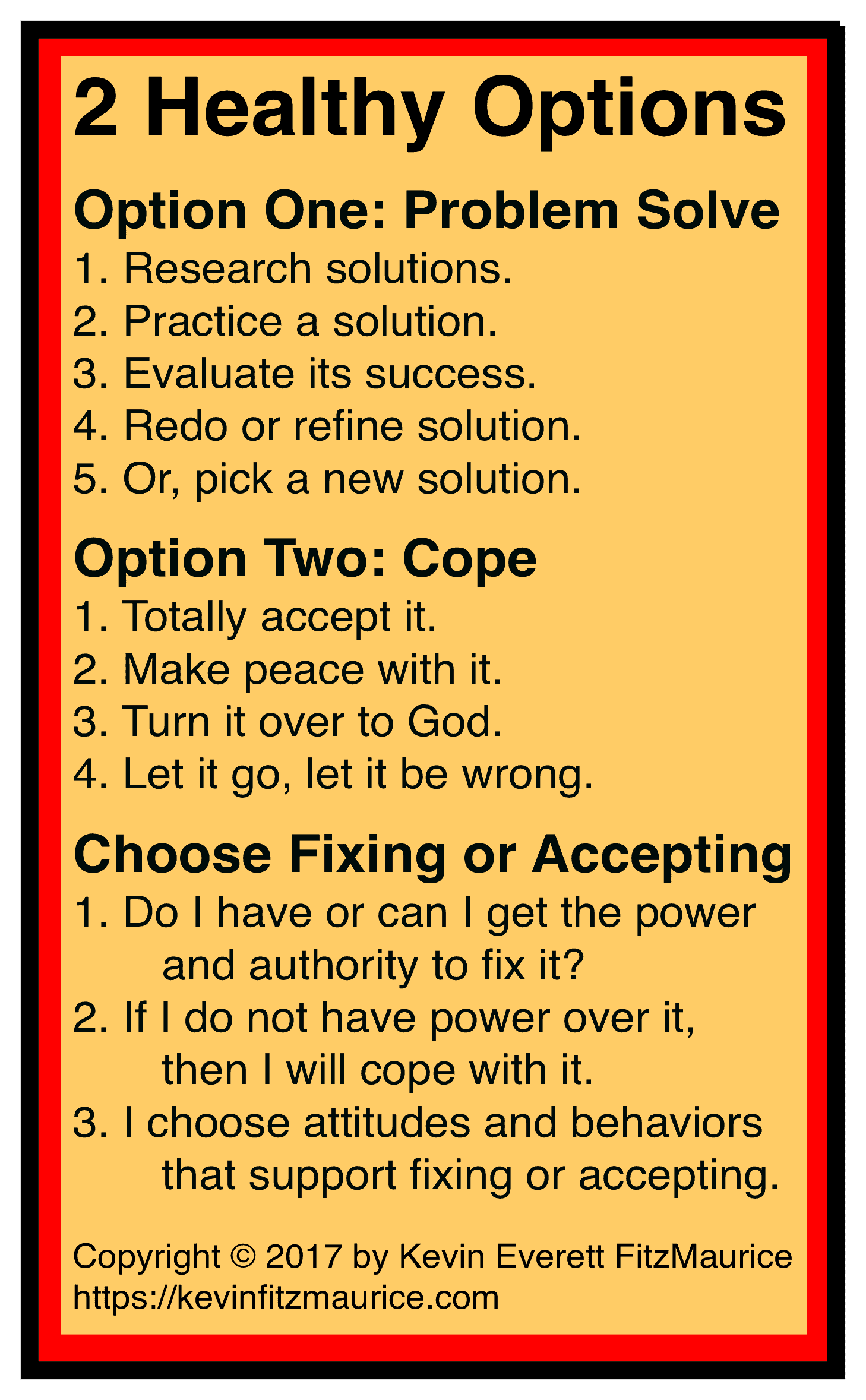 ---
Coping Simplified into 2 Options
"The time is always right to do what is right." —Martin Luther King, Jr.
---
WHAT IS COPING?
Coping is acceptance.
Coping is realistic and pragmatic.
Coping is dealing with reality on reality's terms.
Coping is understanding the situation and facing it head-on.
Coping is adapting to, adjusting to, and accommodating what you can.
---
WHAT IS NOT COPING OR WHAT IS ITS OPPOSITE?
Whining is not coping because it actually lowers your ability to cope.
Damning is not coping because it actually increases problems and makes current problems worse.
Blaming is not coping because it gives you more problems to cope with such as trying to control the people, places, and things that you blame.
Suppression is not coping because suppression maintains poor coping and problems in darkness.
Escaping is not coping because it usually only temporarily removes you from a problem that will follow you.
Avoidance is not coping because you cannot avoid your self or the problems you cause yourself for long–and while you are avoiding problems–they tend to grow in size and stress.
---
HOW TO MAKE COPING EASY
Fix it or accept it.
Seek comforting and soothing when you need them.
Practice good self-care habits.
Develop a support system.
Eat, sleep, and exercise in a healthy way that you can like.
Do work you enjoy or love or enjoy and love the work you do.
Keep company with uplifting people and avoid people who are downers.
Read helpful spiritual and philosophical works.
Study coping and practice the coping skills that work for you.
---
---
Related Pages
---