---
Pain & Fear Are for the Body or Ego
Ego will help you to recognize, remove, and replace your ego: a.k.a. self-esteem.
---
NO FEAR OR PAIN
No human made my self.
No human can remake my self.
No human can make me anything.
No human can change me into anything.
Therefore, there is no reason to fear anyone as there is no psychological pain that anyone can cause me.
ONLY IF—I choose to own, eat, hook, button, trigger, swallow, believe, personalize, buy into, blow up, invest in, suck in, take to heart, or identify myself as something—can I wind up feeling like that something. Even then, I am only that thing in my imagination as it is a lie.
---
Related Pages
---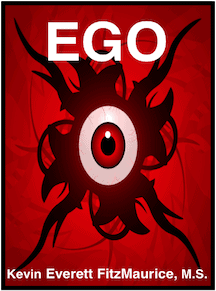 ---
Quotations from Various Sources
Organized Alphabetically
"Identification prevents and perverts the flow of thought-feeling." —J. Krishnamurti, The Collected Works of J. Krishnamurti, Volume IV, p. 8 
"If you must be right, then you fail to learn and so lose." —Kevin Everett FitzMaurice 
"Is not virtue a negation of becoming?" —J. Krishnamurti, The Collected Works of J. Krishnamurti, Vol. III, p. 204 
"No one will hurt you, you will have no enemies, and you will not be harmed." —Epictetus 
"That which is evil to thee and harmful has its foundation only in the mind." —Marcus Aurelius 
"The condition and characteristic of a vulgar person is that he never expects either benefit or hurt from himself, but from externals. The condition and characteristic of a philosopher is that he expects all hurt and benefit from himself." —Lucretius 
"The key is nonidentification with sensation. … Identification with sensation makes the self." —J. Krishnamurti, Can Humanity Change?, p. 47 
"The soul is undiscovered though explored forever to a depth beyond report." —Heraclitus 
"The trouble with most of us is that we would rather be ruined by praise than saved by criticism." —Norman Vincent Peale 
"The way to do is be." —Lao Tzu 
"When, therefore, anyone provokes you, be assured that it is your own opinion that provokes you." —Epictetus 
"You can be right and lose or you can be wrong, learn, and win." —Kevin Everett FitzMaurice 
"You can be right or you can be happy." —Anonymous 
---
QUOTATIONS SCRIPTURE
"He that findeth his life shall lose it: and he that loseth his life for my sake shall find it." —Matthew 10:39 
"For whosoever will save his life shall lose it: and whosoever will lose his life for my sake shall find it." —Matthew 16:25 
"For whosoever will save his life shall lose it; but whosoever shall lose his life for my sake and the gospel's, the same shall save it." —Mark 8:35 
"For whosoever will save his life shall lose it: but whosoever will lose his life for my sake, the same shall save it." —Luke 9:24 
"If any man come to me, and hate not his father, and mother, and wife, and children, and brethren, and sisters, yea, and his own life also, he cannot be my disciple." —Luke 14:26 
"That which is evil to thee and harmful has its foundation only in the mind." —Marcus Aurelius 
"Whosoever shall seek to save his life shall lose it; and whosoever shall lose his life shall preserve it." —Luke 17:34 
"He that loveth his life shall lose it; and he that hateth his life in this world shall keep it unto life eternal." —John 12:25